Millions of people consider Facebook as their favorite social network and spend lots of time on it. Therefore, owning a large number of Facebook accounts can help you reach many potential customers to promote your products and increase revenue. However, creating Facebook accounts manually will take lots of time and face several serious problems. To solve these issues, many users are using a Facebook account generator. In this article, you will know more tools to improve your business via Facebook.
Useful Facebook features for businessmen that you may not know
Facebook Pay
When users need to transfer money, they must have the recipient's account number or phone number to perform transactions on internet/mobile banking platforms or e-wallets. However, many people have trouble such as entering the wrong account number because they have to move back and forth between applications.
It is much easier now when users can transfer money with Facebook Pay. This useful feature is a payment system that uses credit cards, debit cards, and PayPal accounts. Facebook users can use this payment tool to shop online without transaction fees. Moreover, users can transfer money to friends or donate to charity. Furthermore, you can use Facebook Pay with all applications associated with Facebook, including Messenger, WhatsApp, and Instagram.
To transfer money via Facebook, you select Facebook Pay as the following photo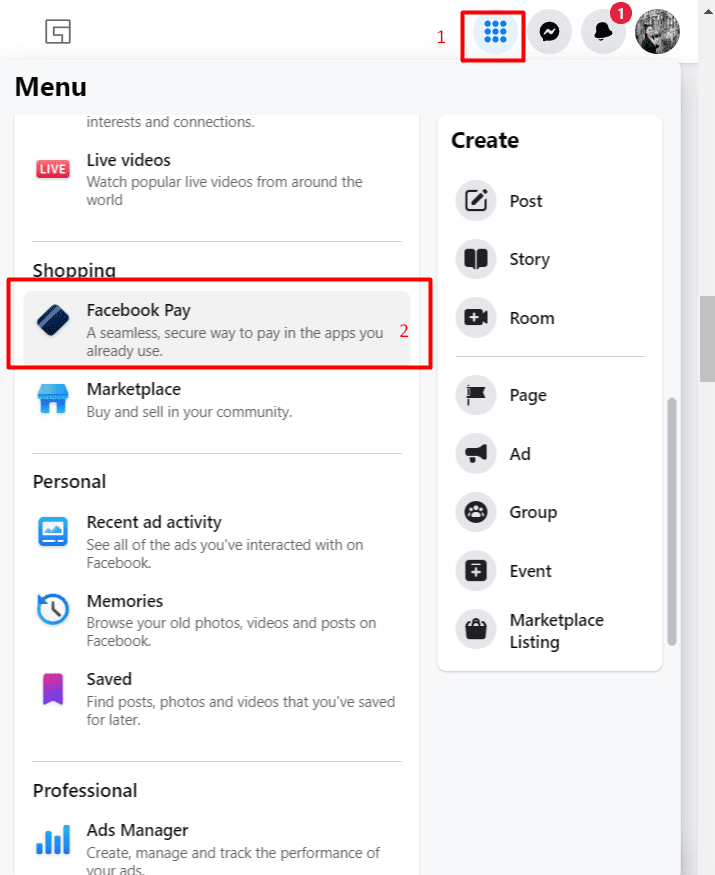 Then, you click on Add Payment Method => select Credit Card or PayPal


Next, enter the required information => click Save. Then, you can transfer money.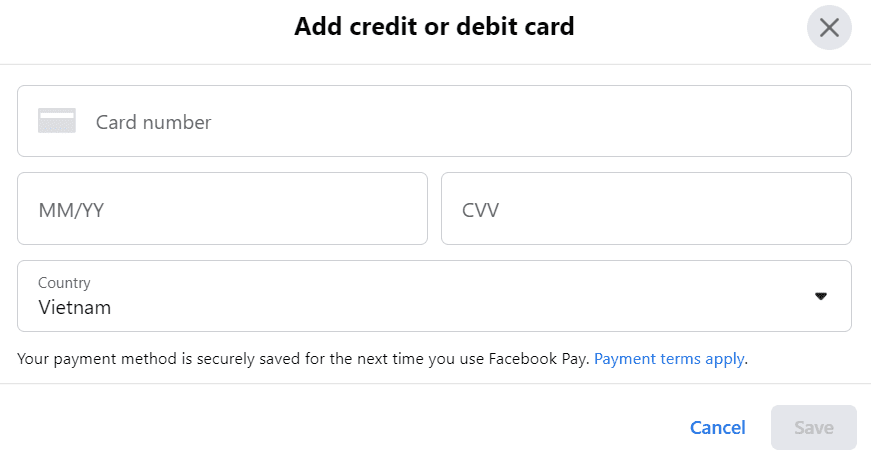 Memorialization settings
Users who have strong influences on Facebook with a large number of followers can earn money with affiliate marketing or advertisements. These accounts are valuable properties because it takes time and effort to spread the influence on Facebook. Memorialization setting is a way for owners to give inheritance rights to their accounts. If the owners of accounts pass away, they can decide what happens to their Facebook profile. Facebook allows users to give someone the right to manage their accounts, or permanently remove their accounts.
First, you click on Settings & Private => click on Settings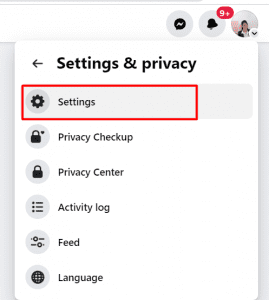 Next, at Settings dialog box, you click on General => click on Edit at Memorialization settings  

Then, there are 2 options for you to choose
Option 1: If you want someone to look after your account after you pass away, enter his/her Facebook username to Your Legacy Contact, then click Add. Your legacy contact can manage your accounts, consisting of posting status, responding to new friend requests, or updating your profile and cover photo. They can even download your Facebook data but not any messages you had sent or received.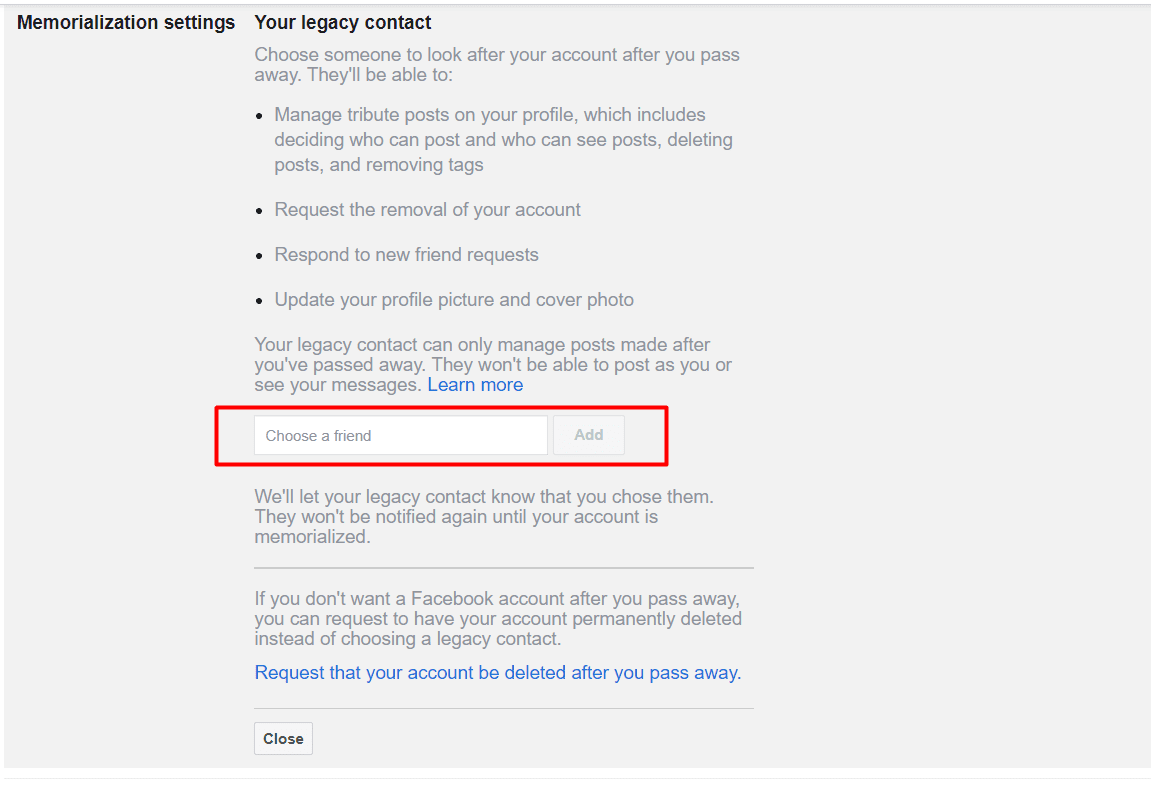 Facebook will send an annual reminder to check your legacy contact unless you turn that option off.
Option 2: Click on Request that your account be deleted after you pass away. Facebook will permanently delete your account after you pass away.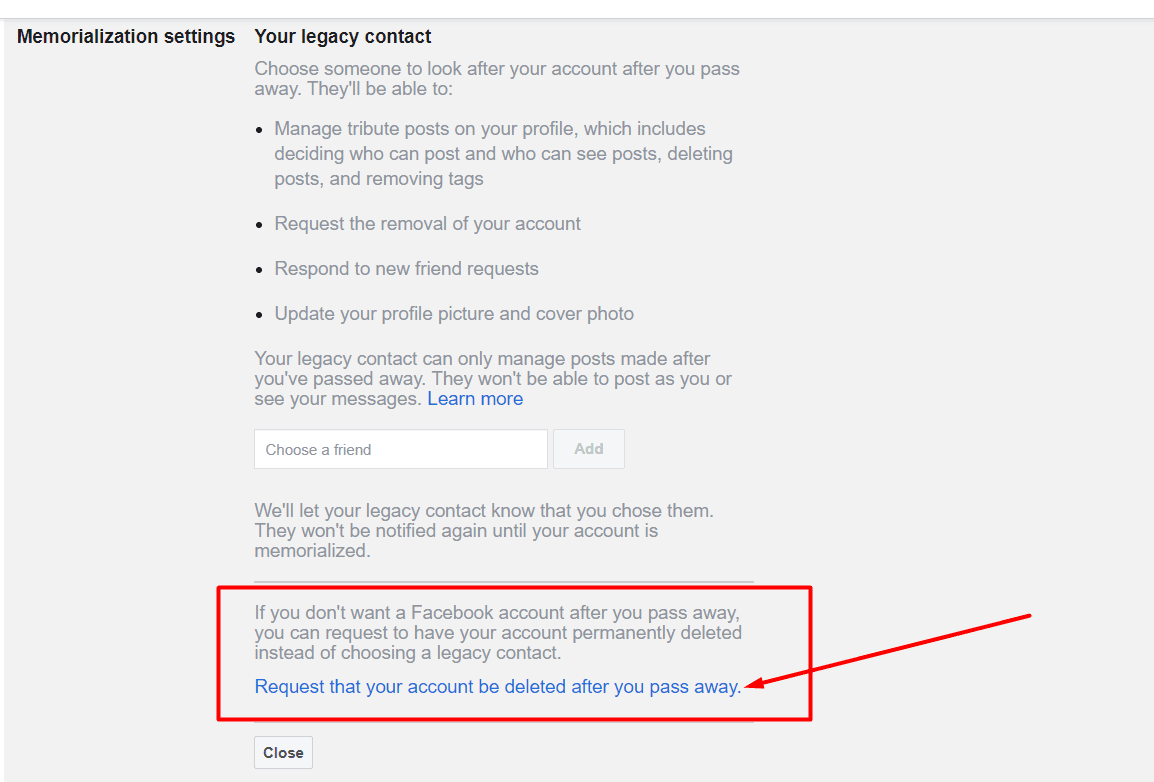 Manage your time on Facebook
Many users complain that they are addicted to Facebook and do not have time for other activities. Are you the type of user who can not stop once starting surfing Facebook wall? Or, do you find it really hard to control the time you use Facebook? This feature of Facebook can help you manage your time online on Facebook. Then, you can spend time on other necessary activities effectively.
Firstly, you click on Settings & Privacy  => click on Your Time on Facebook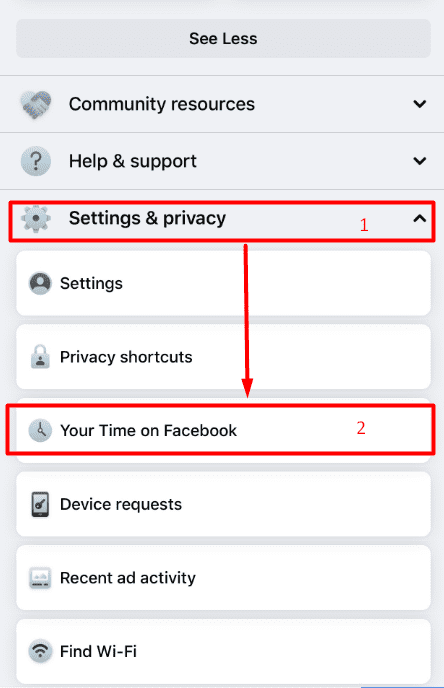 Then, you will see the dialog box presenting your time on Facebook.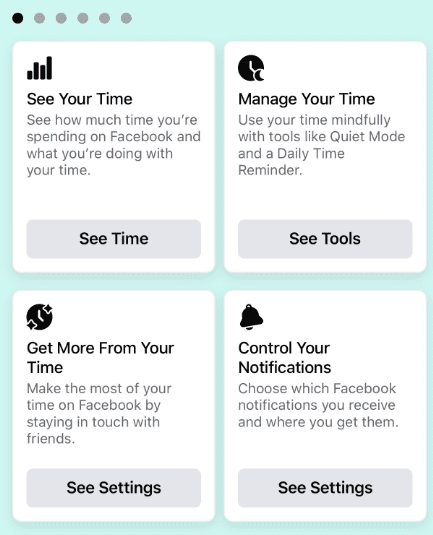 To see how much time you spend on Facebook, you click on See Time as the following photo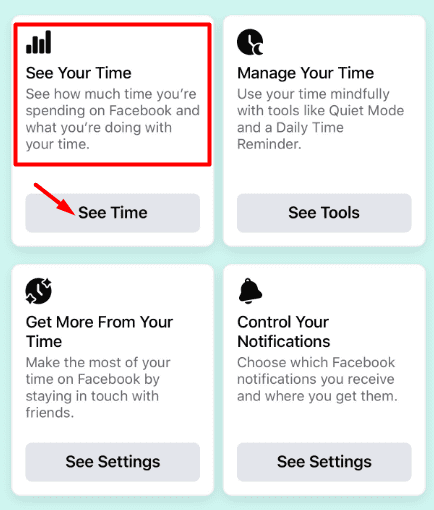 You can see the total time you spend on Facebook per day, per week. Also, you can see the time spent during the day or in the evening as well as the total number of visits.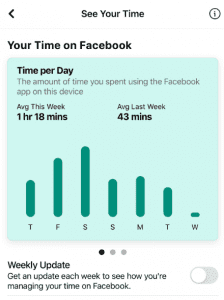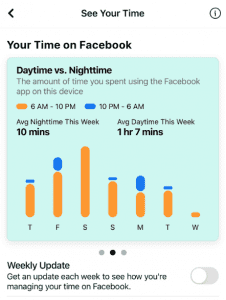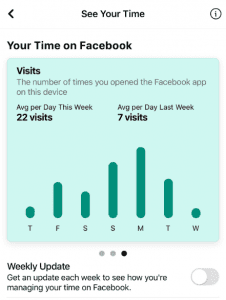 In order to manage your time online with Facebook, click on See Tool as the following photo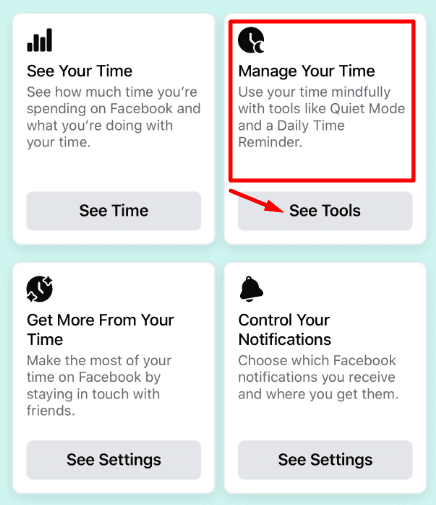 Then, you turn on Daily Time Reminder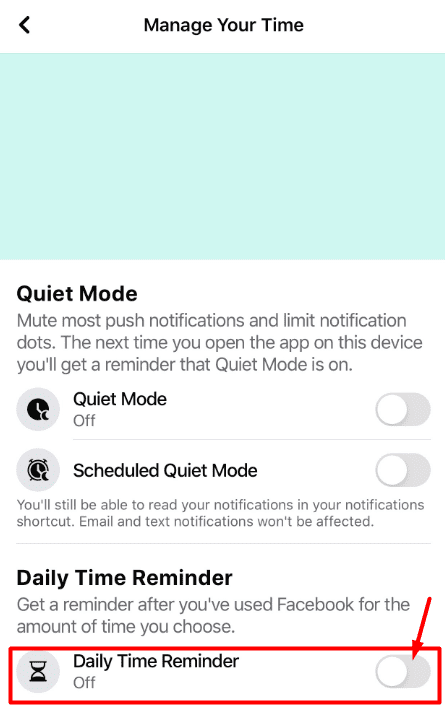 Next, you select the time that you want to be online on Facebook every day. For example, if you set 1 hour, Facebook will remind you to stop after you use Facebook in 1 hour.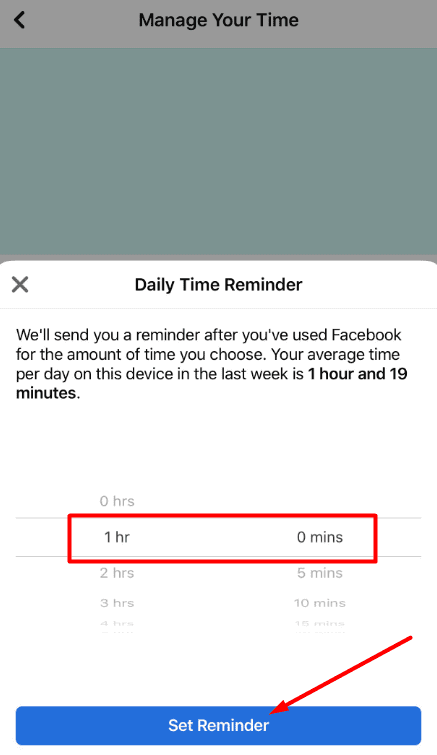 Finally, you click on Set Reminder.
Facebook is an ideal platform to make money 
Facebook is free and easy to use
Users can use Facebook without paying for anything as long as they can connect to the internet. You need a mobile number or an email address to create a Facebook account only. Facebook will instruct users to update avatars, bio, and other steps in detail. Therefore, users from different groups of ages can create accounts and use Facebook. The bulk users make Facebook become one of the best marketplaces. Businessmen can get access to a larger number of customers.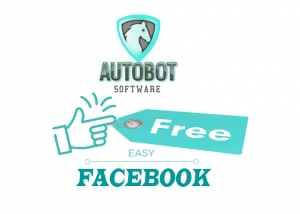 More than one hundred languages are integrated into the interface of Facebook. Thus, users around the world can understand all functions of Facebook easily. The languages change automatically based on the country of IP that users use. Users can change the language of Facebook in settings, too. Thus, you can easily promote products in any language to customers from any country. Then, Facebook will translate information automatically.
Users can build brand awareness on Facebook
Facebook allows users to share information quickly. Many users consider Facebook one of the fastest information sources. Information often comes to Facebook users before approaching readers via traditional newspapers. Facebook users tend to read news on their walls rather than wait for published magazine articles. Therefore, marketers often create and share good content on Facebook to build positive images for their brands.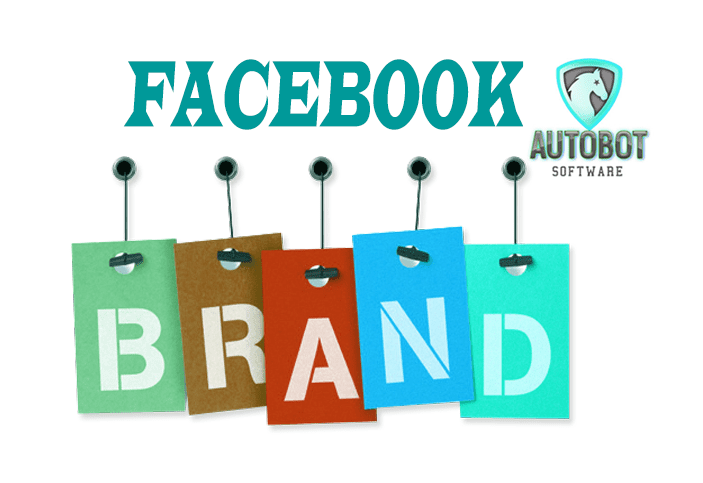 Moreover, users often relax with various videos, stories, photos, etc on Facebook. Facebook allows users to entertain themselves with any topic that they want. Marketers can advertise products in various ways corresponding with entertainment types on Facebook. They can pay for advertisement appearances when users watch films, listen to music, or play games. Moreover, marketers can add their brand logo and stories with hundreds of creative videos or funny photos to attract users' attention.
Facebook allows users to build communities worldwide
Facebook users can connect with other people from any place around the world. There are many groups which had been created to gather members with the same interests. They can easily share their opinions, emotion, useful knowledge, meaningful moments, etc. Facebook is really useful for users to share hobbies because it can help connect around the world with no limitations. Taking advantage of this, many businessmen create groups to gather potential customers. They attract members with helpful information, tips, instructions, etc. related to their business field. Then, they will have many potential customers.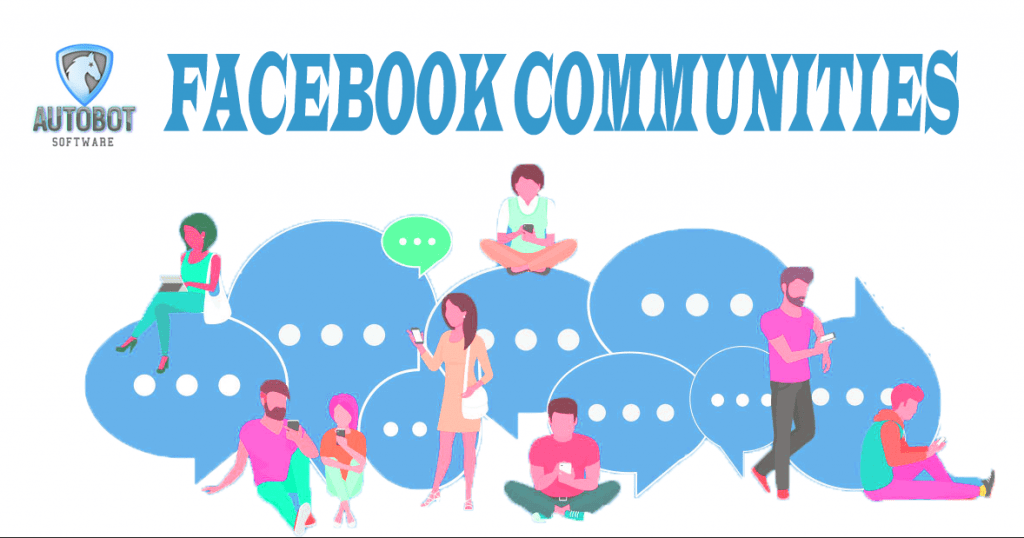 Looking for products on Facebook is a popular habit of young people worldwide. Facebook becomes one of the most reliable reference channels before customers decide to make an order. Therefore, business owners can post positive reviews about their products in concerned Facebook groups to gain trust from customers. Moreover, in case the business needs to conduct surveys, researchers can save lots of time and cost they can reach target customers worldwide via their communities on Facebook.
REFER TO HOW TO MAKE MONEY ON FACEBOOK
You can see that Facebook is a good platform to earn money. And, if you own many Facebook accounts, you can easily make money on Facebook. To be more specific, managing lots of Facebook accounts can help
React, Comment, Share, and Discuss on your post to spread your influence
Increase members for your Facebook groups/ communities quickly
Post many good reviews of your products
Increase Likes, Followers for your Page easily
Sell products with many accounts
Thus, we will see how to create bulk Facebook accounts in the next part.
How to create Facebook accounts manually?
Firstly, you visit https://www.facebook.com/ and click on Create new account

Next, you enter the required information, consisting of name, email address or mobile phone number, password, date of birth, and gender.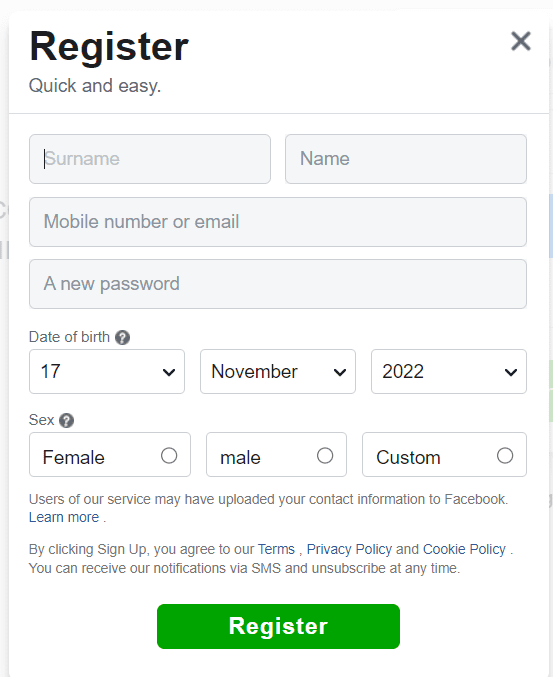 Then, you click on Register  => you will receive a code to your phone number or your email address => enter the code to confirm creating an account.
Disadvantages of creating Facebook accounts manually
It takes time to finish mentioned steps above with lots of information required to create a Facebook account. In case you create Facebook accounts with phone numbers, you need to change the sim on a mobile phone once you receive the new OTP code.
Also, you have to buy a large number of Gmail accounts or mobile phone numbers to create bulk accounts. Therefore, you need to spend lots of money to create Facebook accounts manually, too.
Moreover, the created accounts can be easily banned if you create too many accounts on the same IP. In case you want to change IP manually, it will take a large amount of time and effort.
Also, after creating accounts, it is not easy for you to manage the information of bulk accounts.
To address all mentioned problems mentioned above, you can use Facebook account generator.
How does the Facebook account generator work?
In general, our Facebook Account Generator will simulate all actions of real users. The tool will open the browser, visit the Facebook website and take all steps to create a Facebook account. Facebook account creator bot will help you save time and cost because it can open multiple browsers at the same time. Also, each browser can be run with different IPs. Therefore, users can create many accounts simultaneously on the same device. Also, users can customize firstnames, lastname and passwords for the tool to create accounts as they want. The software will save cookies and profiles of accounts that it created. Users can export the result after running.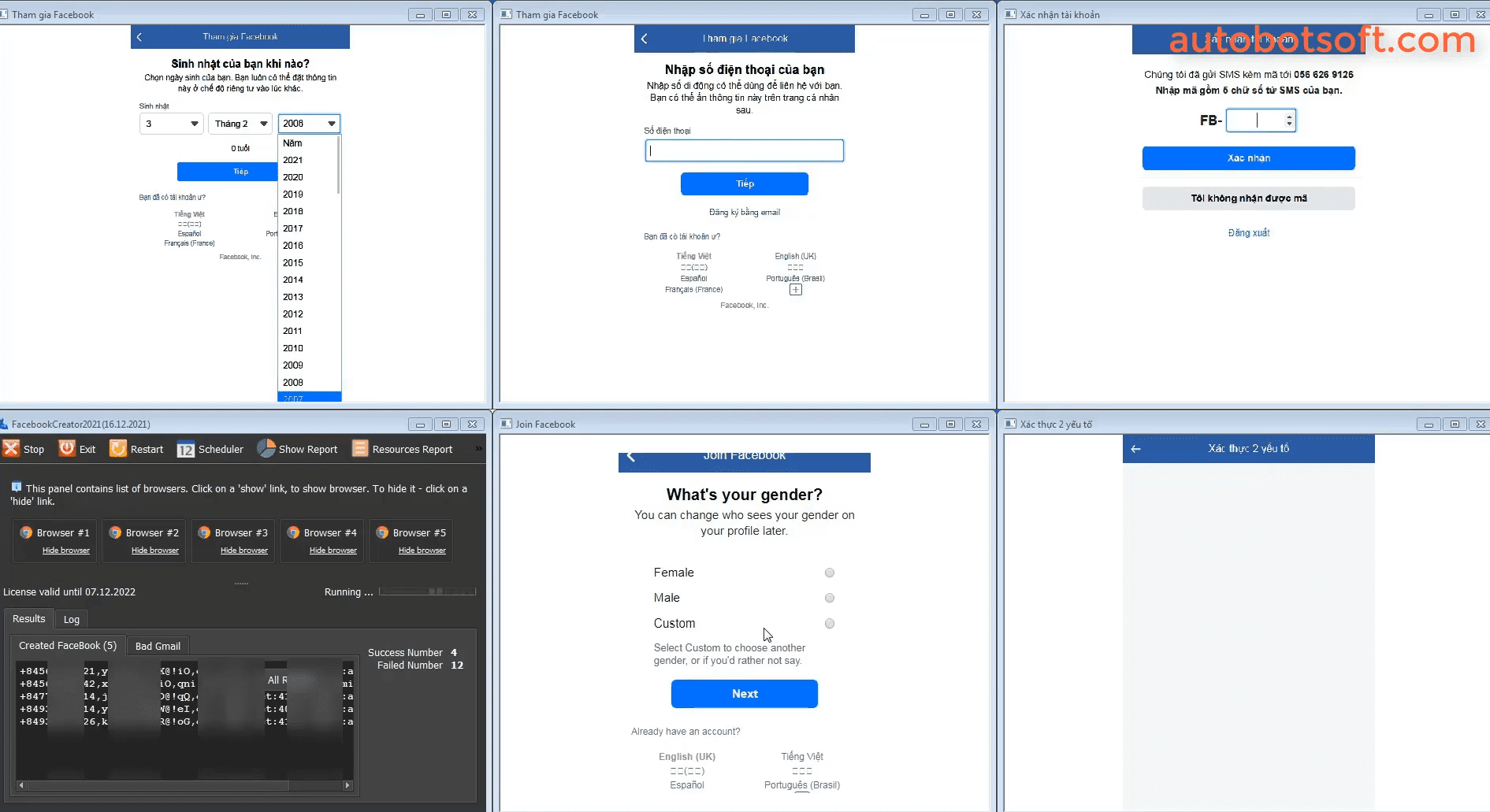 Advantages of using Facebook account generator
Facebook Account Generator can create Facebook accounts from different sources
There are 3 ways for users to create bulk Facebook accounts with our Facebook account creator bot, consisting of
Phone number: The software performs all steps to create Facebook accounts with mobile numbers. Many users wonder how the tool can get OTP codes automatically. Do not worry, our IT team had integrated different OTP sites which can provide a larger number of OTP codes from different countries worldwide. You can select any OTP site and country you want. The software will get codes automatically.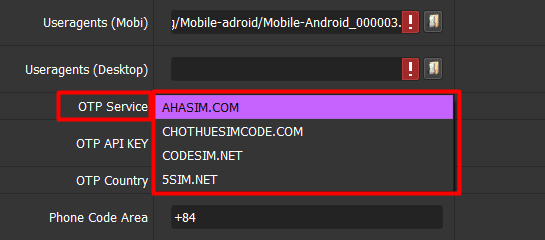 Gmail: our Facebook account generator will use Gmail accounts that you imported to create Facebook accounts automatically.
Tempmail: This Facebook Creator tool will automatically get a temporary mail from the web https://10minutemail.net/?lang=en to create a Facebook account. However, the system of this web will automatically delete the temporary mail after 10 minutes, so you can only use it once.
Avoid being suspended by Facebook – Facebook Account Generator
If you create too many accounts with the same IP as you do manually, your accounts can be banned by Facebook. Fortunately, our Facebook account generator can run with rotating proxy. Thus, users can use millions of IPs to create accounts. That is the reason our FacebookCreator bot can help you create bulk accounts without being banned.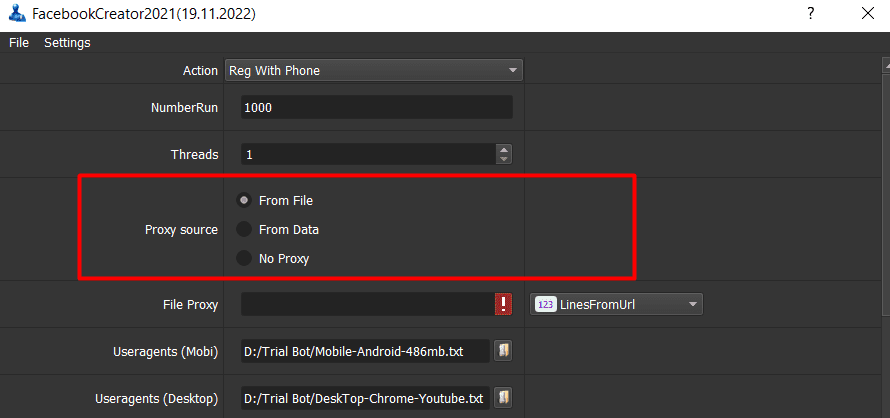 Users can use proxy rent from us or from outside sources. There are various ways to import proxy. Also, users can customize how many times each proxy can be run. With our Facebook account creator bot, you can create accounts with proxy from any country that you want.
YOU CAN RENT SAFE AND CHEAP PROXY FROM THIS WEBSITE HTTPS://SAFERPROXY.COM/
Tutorials, 24/7 support, free fixing bugs and update – Facebook Account Generator
After purchasing the software, you will get tutorial links in text and video. All instructions had been specified clearly with photos and videos.
Support team is ready to support customers in running the software on Skype, Facebook, and Email.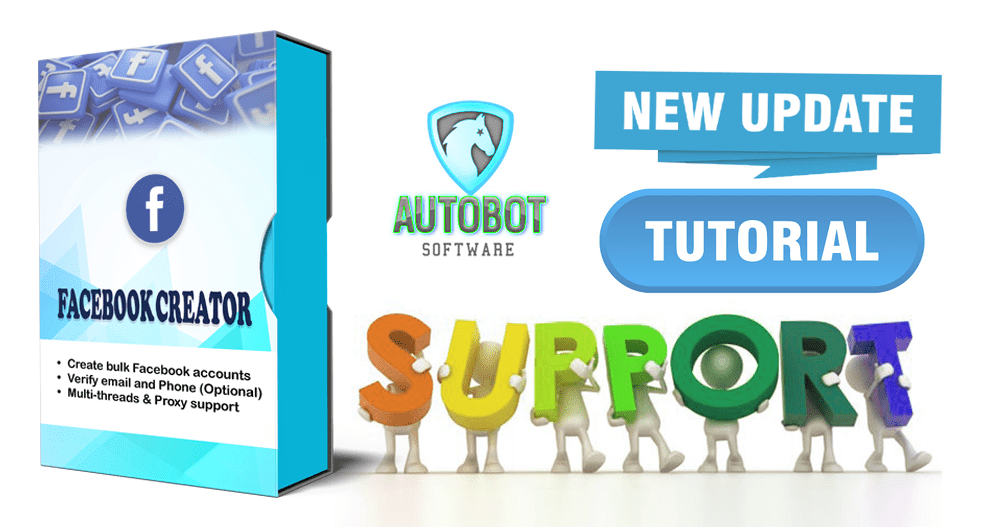 With any problem that arises, our IT team will fix it. Moreover, new features will be added according to new updates of Facebook. Then, the software can be updated automatically without any cost.
Using Facebook account generator is an effective way to create bulk Facebook accounts automatically. Do not hesitate to contact us at Autobotsoft – Top Marketing Software to get this useful Facebook creator software.